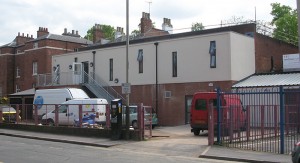 Our building
Soft Touch owns its own building which is on New Walk, Leicester. This is where our offices are based and where we carry out many of our projects. Facilities include five music studios, rehearsal and practice rooms, an arts and crafts area, along with a dedicated craft studio and access to a wide range of state-of-the-art digital equipment. The project areas of the building have full wheelchair access.
For deliveries and Sat Nav: Wellington Street
LE1 6HJ
Pedestrian access is from the Wellington Street entrance pictured above.
info @ soft-touch.org.uk
By rail
Leicester is just over an hour's ride by train direct from London (St Pancras International) by train. There are also direct rail links to Birmingham, Sheffield, Nottingham, Derby, East Midlands Parkway (for East Midlands Airport), Peterborough, Luton and Stansted Airport. Leicester railway station is about five minutes walk from our premises.
0116 255 2592
info@soft-touch.org.uk